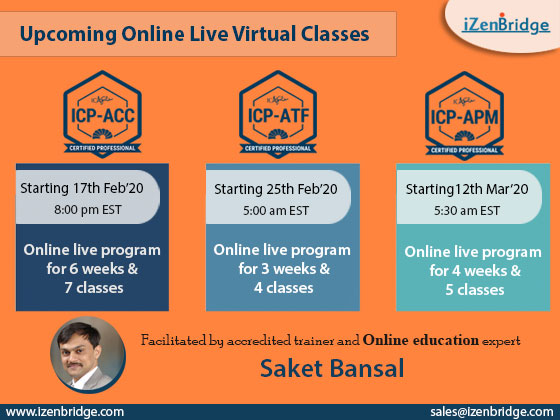 Explore our online PMP Program , it makes PMP Easy
http://goo.gl/ZmD3xF
Beginner

Posts: 39
Joined: Wed Dec 11, 2013 6:41 am
Thanks a lot Saket Sir for providing the wonderful e-learning, quizzes and webinar sessions. The webinar and forum for clarification sessions, really helped a lot in passing PMP exam.
Thanks everyone in the group for contributing to webinar and posting different questions on the forum. This really helped me during preparation.
My study methodology:
Decided the time frame for clearing the PMP exam. Hence set the exam date on 20th Jan. So I had roughly around 75 days for PMP exam preparation.
1. First and foremost, gone through all the sessions provided in Quampus.
2. Read the PMBOK for the first time and wherever I had doubt referred the Quampus video.
3. Then took the test on Quampus and did a gap analysis of knowledge. Hence re-read those sections from PMBOK.
4. Started writing test from Scordo.
5. Rita Mulchay - I studied only HR, Communication and Stakeholder Management. But solved all the questions from Rita (chapter end questions).
6. Then again attempted full length test from Quampus and reiterated through the wrong ones.
7. Reread the PMBOK for 5 days, just before the exams. So overall 2 iterations of PMBOK.
Funniest time during preparation:
Since I didn't read Rita Mulchay, hence I thought of randomly reading some questions from some free PMP questionnaire site. I was bombarded with weird new terms like MBO, salvage value, straight line depreciation, accelerated depreciation and its corresponding formulas etc. This created a bit of confusion. When I asked these questions to Saket...the first reply I got was "
from where are you getting this terminology - for MBO and salvage value!
"...Though the questions were answered during the webinar:-)
So I later dropped the plan of studying extra from untrustable sites.
PMP Exam:
Initially there will be 15 minutes tutorial.
I utilized 5 minutes for dumping the formulas on the paper and then clicked on end tutorial button...this started the actual exam.
Completed the PMP exam within 3 hours and clicked on submit button....there came a white blank screen and got a 9 survey questionnaire....After answering the survey questionnaire...again had a blank screen for 2 minutes...Finally the result was published as "PASS"...This gave a big smile on my face...
Lesson Learnt:
Should have utilized remaining 1 hour for reviewing the questions. Also should have marked some questions for review...which I didn't do it....
Last but not the least...thanks everyone for helping me in passing PMP exam.
Posts: 17
Joined: Sat Jan 11, 2014 11:38 am
Beginner

Posts: 39
Joined: Wed Dec 11, 2013 6:41 am
Thanks a lot for the wishes...
Best of luck for all PMP aspirants...
Hi Amazing ..
Congrats ..you boosted my views ... I am afraid of those weird terms too,
Could you please mention your duration for preparation for those items.
How many months it took you to be ready?
Thanks
Shraddha
Beginner

Posts: 39
Joined: Wed Dec 11, 2013 6:41 am
Thanks for the wishes...
It took exactly 75 days...I started in the month of 30th October 2013.
Return to "PMP® Exam Lessons – Success Stories"
Who is online
Users browsing this forum: No registered users and 3 guests